My birthday at the Good Beer Spa 
June 2021 
The day has come :-) I have celebrated my birthday at the Good Beer Spa with my bubble.
The Good Beer Spa has recently opened in Brussels, with Belgian Beer of course, and we have been some of the first people to try this beer experience.
As we are still coming out of this pandemic, I cannot have a party with all my friends so I chose to do something special with my bubble and this is a great opportunity to try the Good Beer Spa. We are four friends very interested in beer and traveling.
We arrived and at the entrance, we can see the Good Beer gift shop with all the beer t-shirts and wooden craft articles, bottle openers... I bought some beer socks after the session (not the ones in the photo, mines are the skull ones ;-) )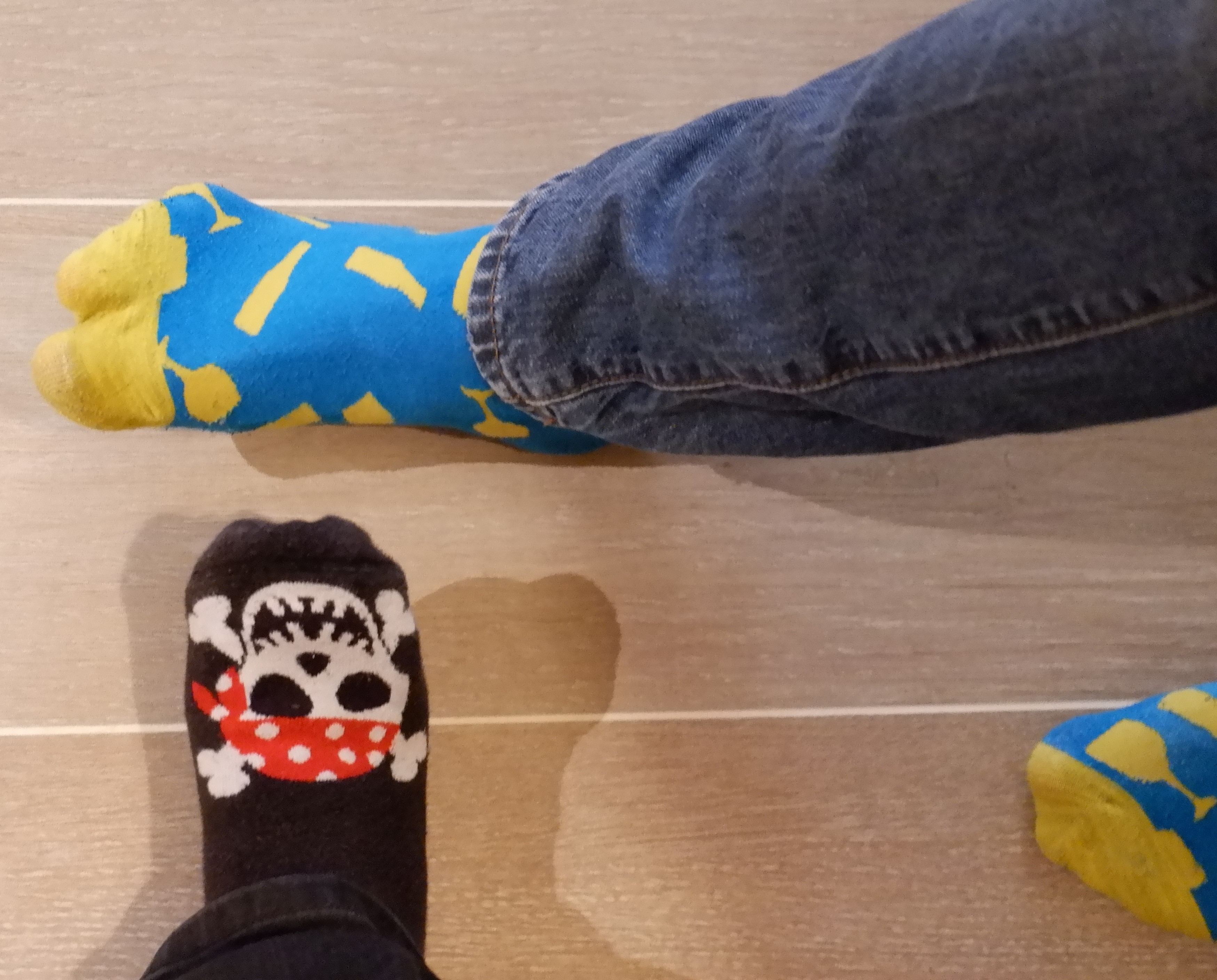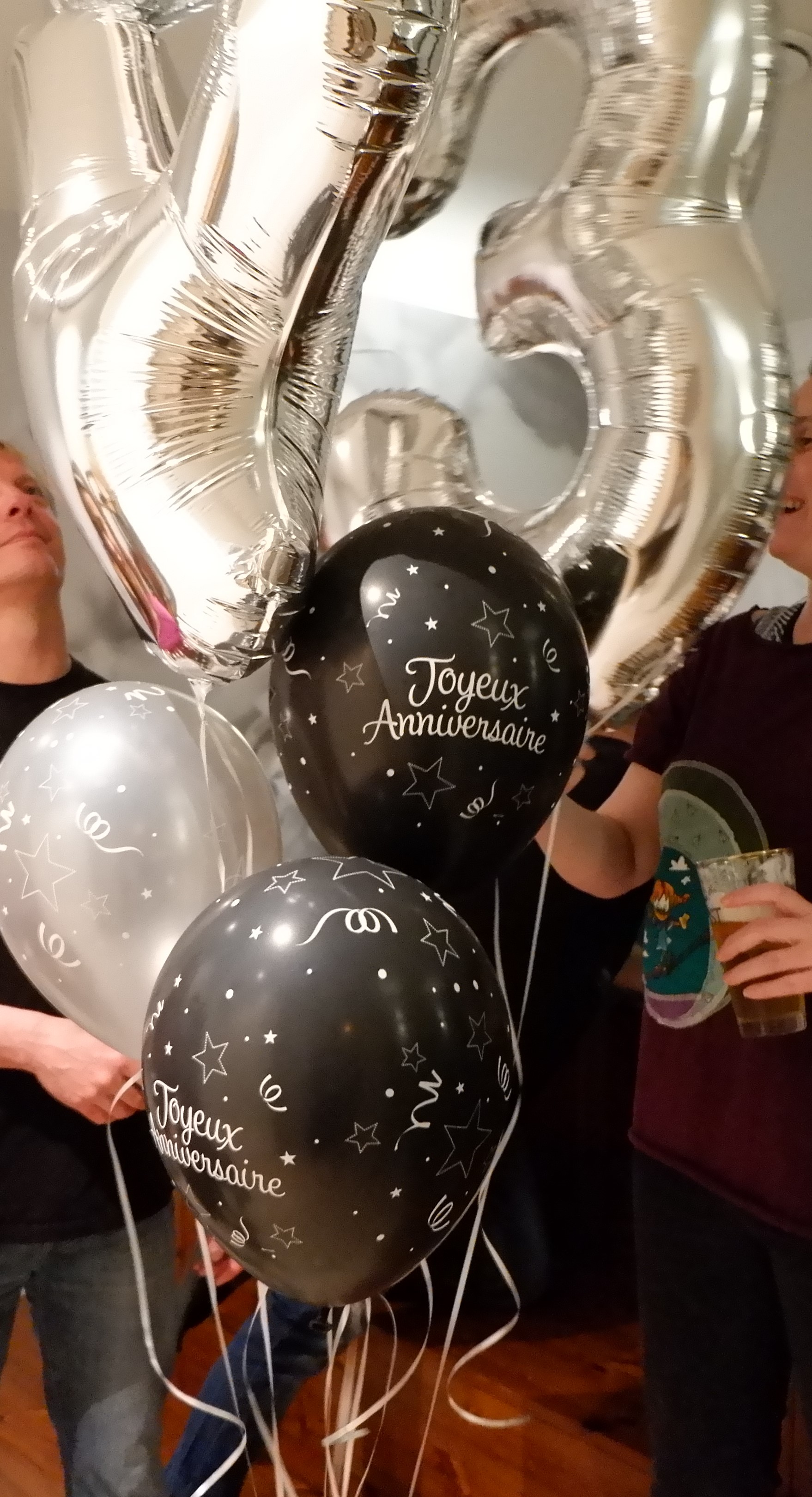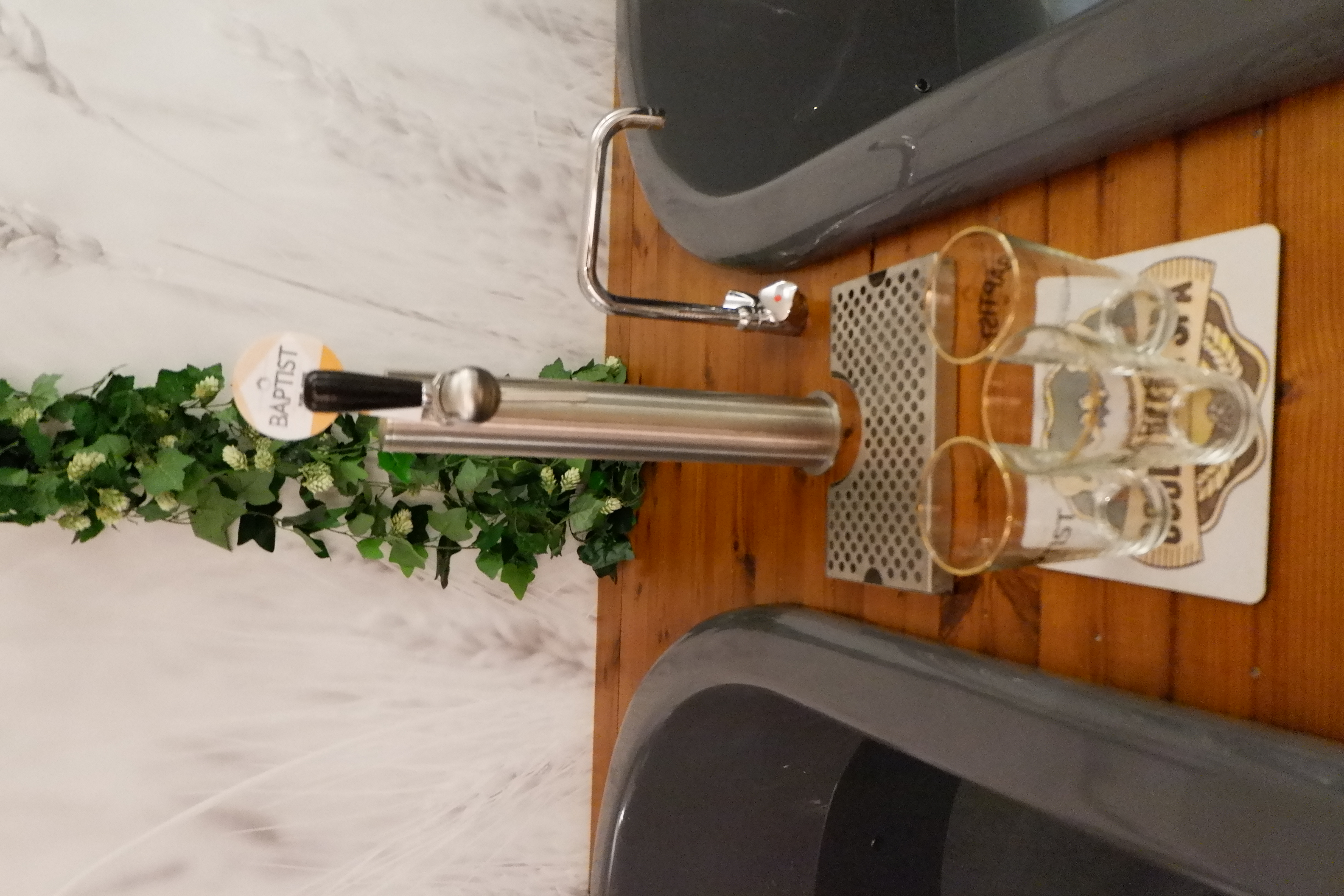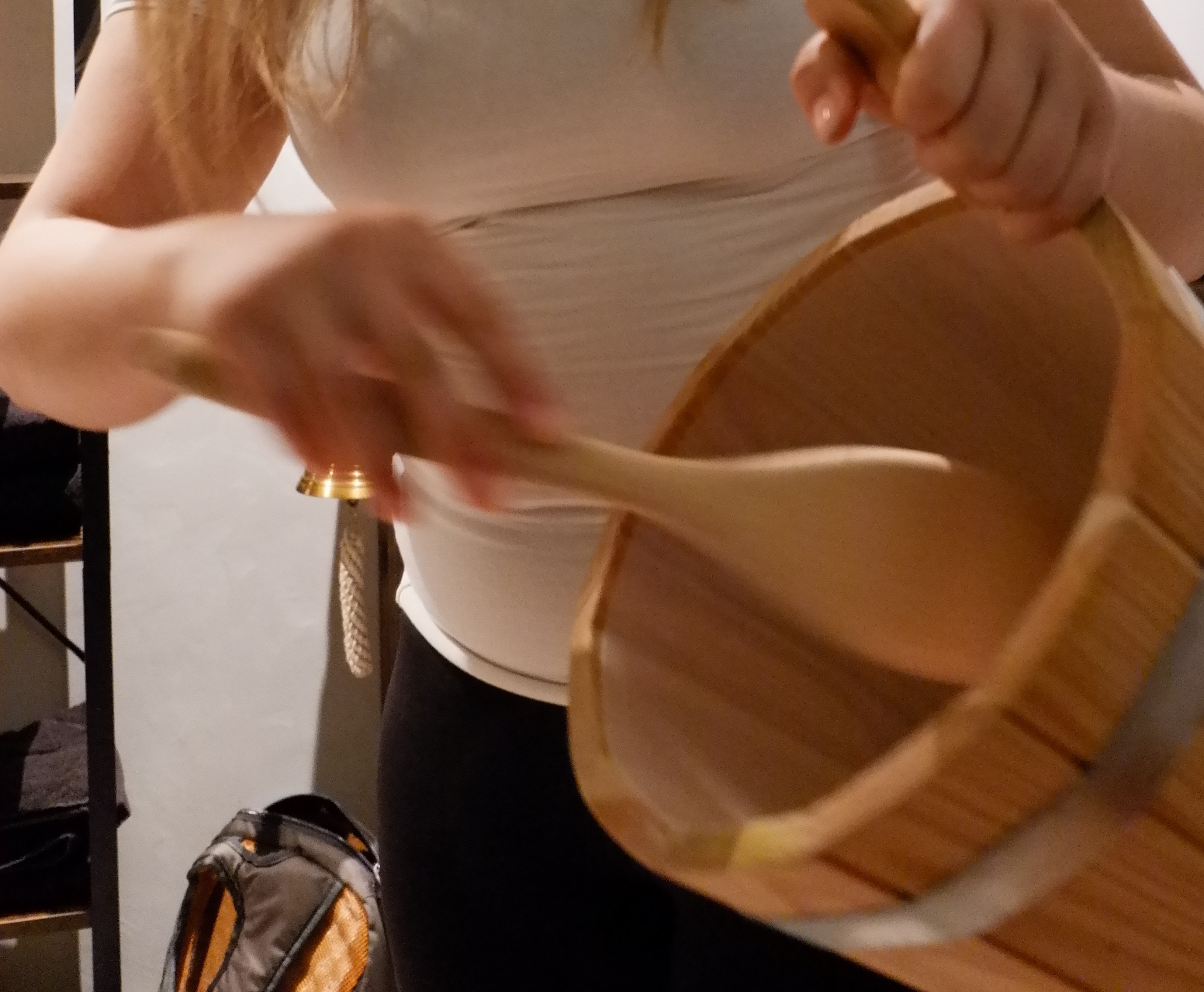 We were welcomed and guided to our Beer Spa room. My friend had arranged Happy Birthday balloons in the room and I did not know so when we went in, it was a real surprise. Big balloons with the numbers turn around ;-), and small balloons with "Happy birthday" written in French "Joyeux Anniversaire". The room is big and spacious, the ofuros (Japanese bath tubes) are huge, they fit two people comfortably. There are three ofuros and two beer taps per room. And there is also a shower, but it is not recommended to have a shower after the beer spa in order to keep the skin benefits longer, and in fact, it is not needed.
We left shoes and jackets outside, and the beer fun was just about to start.
The ofuros were already filled with warm water and we had a really nice explanation of the ingredients and the benefits for the skin during the preparation of the baths. There were three wooden buckets, each one with one ingredient. Malt, good for skin tone and texture.  Yeast, rich in vitamin B to moisturize and hydrate the skin. And hop, full of antioxidants, oils, and minerals to relax and give the skin and hair a radiant and natural shine.
In another bucket, a spoon of each one of the ingredients was added, we could smell them and guess what each one was. The yeast smells to me like bread, the hop you can recognize it by its grassy freshness, and the malt is the cereal one, more difficult to guess by the smell. Beer is added to the three ingredients in the bucket. They stir the mixture and add it to the baths. 
The water was perfect, nice and warm, not too cold and not hot. The baths are really big and comfortable. Once in the bath, the bubbles suddenly started and it was really cool and relaxing.
And I cannot forget to tell you about the beer! :-) Yes, beer is the most important ingredient of the whole experience. In the Good Beer Spa the beer on draft is Baptist Blonde from Brewery Van Steenberge. Most known for the Gulden Draak or Augustijn. Baptist Blonde is a high fermentation blonde beer, low in alcohol, only 5.2%, which is perfect for this experience. It is really smooth and tasty with the perfect bit of bitterness. You can serve it yourself à volonté from the beer tap next to your bath. Don't worry if you have never used a beer tap. It is really easy, you cannot go wrong. 
As I bought the session with the crowdfunding on Indiegogo last year, we had a cheese platter included :-)  The girl that gave us the introduction brought a wooden plank with beer cheeses and a few wooden forks. All the cheeses were really good.
The baths are so big that you can really immerse yourself in the water. It is really fun and easy to serve your beer. We drank, we toasted, we poured some beer onto our hair.... it is really fun and time flies. Even if we got two sessions one after another (you need to contact the Good Beer Spa to organize this) we would have liked to stay longer.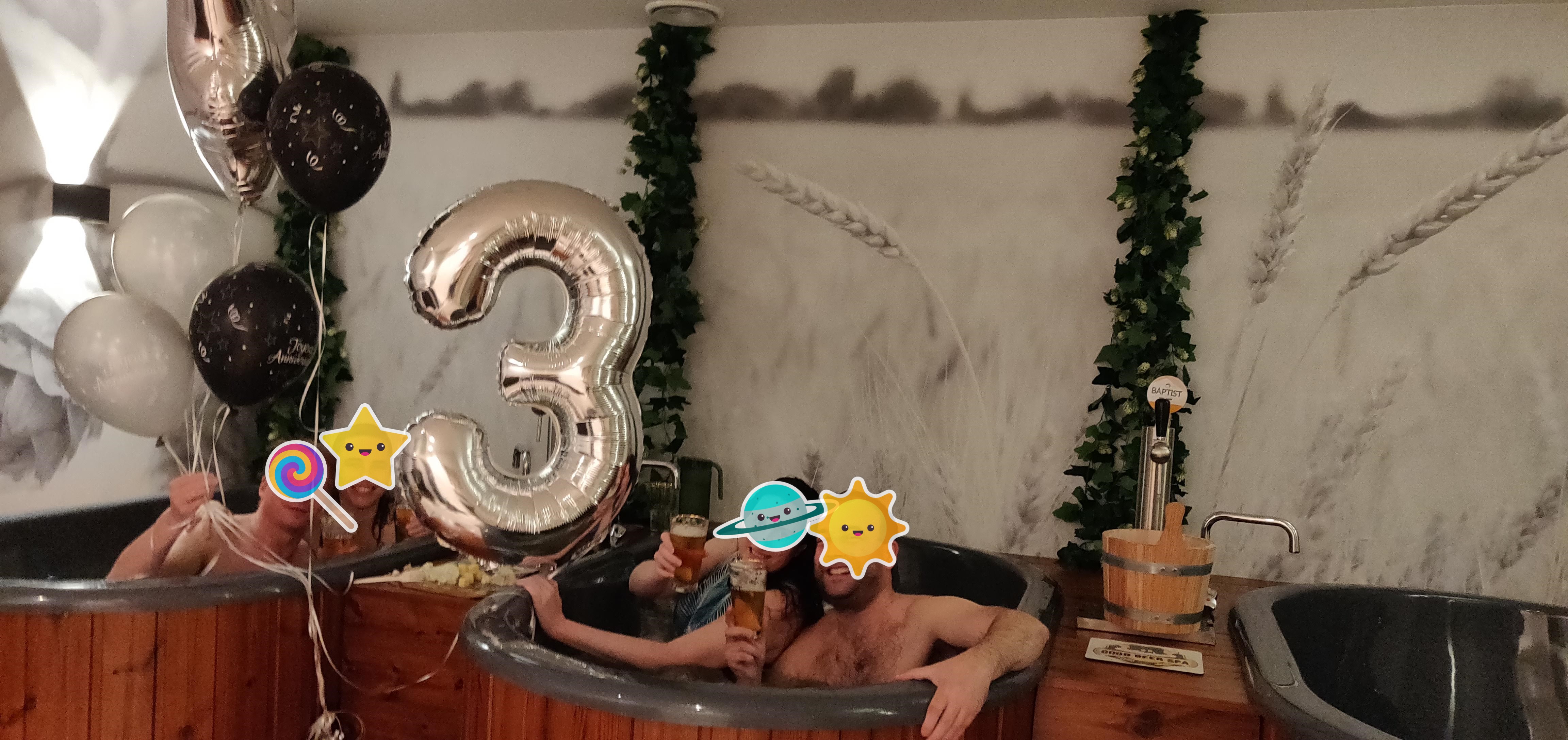 When the session is finished the clock beeps and you have five/ten minutes to get ready and leave the room. You will notice your skin is nice and soft and you feel really relax. Indeed, we did not have a shower after the session to keep the nice feeling in our skin.
We really had fun. Plus, we tasted the Baptist Blonde beer that is a very good and tasty beer quite difficult to find in Brussels.
This is a great relaxing experience to do as a couple and it is a real fun experience to do with friends.
I totally recommend it! 
Cheers!
May 2021
The Beer Spa city per excellence is Prague where there are around 15 beer spas. Yes, Prague is a very touristic city, with plenty of beer tourism so there is a lot of interest in this beer wellness experience. I went to Prague a few years ago and visited the Original Beer Spa, the session was a present, the best gift ever. It was a great weekend, a real beer relaxing experience. I really enjoyed it and since then I look not only for new beers or new breweries but also for new beer spas to try. This is why now I am so happy that finally, a Belgian Beer Spa is opening in Brussels.
I saw a big truck from Van Steenberge a couple of days ago on my way back home. Baptist Blonde will be the beer coming out of the Good Beer Spa taps. It is a light blonde beer from the brewery Van Steenberge, this brewery is well known for their beers, Augustijn and Gulden Draak among others. Augustijn on draft was my favorite beer some years ago. :-) A lot of barrels of Baptist were dropped off at the Good Beer Spa. That truck with the huge logo of Gulden Draak looked like paradise to me.
If you are wondering how a beer spa experience works continue reading.
You can book your session on the internet. Visit the web page, select the day, the time, and how many people and bathtubs you want. Each bathtub fits one or two people. It is a private room and you might go with friends so you can select one, two or three bathtubs. You will be asked to arrive five to ten minutes earlier. This is very important as you want to enjoy your full session.
The first time we did not know what to expect so we brought our swimming suits but finally did not use them. It is up to you to wear or not a swimming suit for the session. This is not only something cultural, but it also depends on who you are going with, so you choose. It is mandatory to use slippers and you can use yours (bring your flip-flops) or buy them at the beer spa at a reasonable price.
At your arrival, five to ten minutes before the session, a member of the staff will guide you to your private beer spa, explain and show you how to serve your beer if needed. Obviously, we did not need it ;-).
You enter the beer spa and your bath is already filled with warm water. Then the staff will put in a wooden bucket malt, hops, and yeast while you get an explanation of the session and process, and finally, the bucket is filled with beer. The mix is stirred and then added to the bath.
There is always a shower available but remember that this is actually a wellness treatment and the ingredients added to your bath are very good for your skin. Barley helps to preserve elasticity, oats improve tone and texture, yeast is rich in vitamin B and hydrates the skin, and hops are relaxing and give a natural shine to your skin and hair. If you think about it, they have long been used in cosmetics and natural remedies. But in any case, the last ingredient is always the best. Beer of course! J
It is recommended to shower before entering the bath and not after. After the session, your skin will be smooth and nice. And no, you will not smell like beer at all, you will smell nice thanks to the hop aromas.
You will receive a signal five minutes before the end of the session. If in the beer spa there are other services like a sauna or a hay bed I really recommend you to focus on the beer bath. This is the best relaxing and enjoyable beer experience ever. It is true that I am not really into saunas but if you have it, just spend a few minutes there because the key to this experience is the beer bath. About the hay bed, well, it is supposed to be changed by new hay every week or every day but if you have allergies forget about it, and for hygiene reasons in covid times, I really do not see it.
The beer spa from Island is quite famous. It has the possibility to bathe inside and outside. Taking into account the sauna and hot tub tradition in Northern Europe, the concept of a beer spa matches perfectly with this country. They have seven baths for one or two people per bath and the outside area with two big hot tubs is included in your beer bath session. The facilities include as well a restaurant where the same beer from a brewery nearby is served. It is not in the middle of a city so once you get there you want to spend some time and a restaurant pub is what you are looking for.
In Japan, the onsen or natural hot springs are part of their cultural tradition and the Japanese know beer live yeast gives a soft feeling to the skin and the antibacterial properties of hops help detoxifying and relaxing the body. I love Japan and I am looking forward to coming back to the Asian country and enjoy a beer onsen. This started three or four years ago and I believe there are new beer spas opening now.
In Austria, there is a beer pool inside a castle. The old open fermentation pools that are no longer used have been converted into beer pools. The bath is warm but you can order a cold beer from the pool. Yes, in this case, there is no beer tap next to your pool but the staff will serve it for you.
There are a couple of beer spas in Budapest where thermal bathing is very traditional and a must-do when you visit it. Unfortunately, the beer spas were not yet opened when I visited the city, I would have tried it. But I am afraid that after my experience of tourist traps almost everywhere in this city, I do not think I will come back any soon.
Also in Europe, we can find four or five beer spas in Spain, in some tourist cities like Granada or Tenerife. There is just a problem with these ones as I am afraid the beer chosen is not a good one. And it is a pity because there are more and more good beers now in Spain. When I was a student in Granada pubs were offering this beer for free to get people inside and we refused it...
A few beer spas can be found in the States, it seems something quite new there and they are inspired in the Eastern European beer spas. The one in Denver has called my attention, it is very new and I would like to visit it one day. Though from what I see it is more like sitting in a teacup where the ingredients have been infused than in a bath. I still need to find out if the effects on the skin are the same. I say this because instead of adding the ingredients to the bathtub, they are all in a big teabag that is hanging in a circular bath with two sits.
I will tell you very soon about my birthday celebration in the Good Beer Spa in Brussels, five minutes on foot from my place. And one day, as soon as I can I will come back to Japan and tell you about the beer onsen. So looking forward to both beer experiences. 
Cheers!
 19th April 2021
The first Belgian Beer Spa is opening in Brussels and their calendar is now opened for reservations. 
As I expected cafés and restaurants cannot open in Belgium on the 1st of May as previously announced! They have been closed since last October. But the vaccination rhythm is going well and I am so looking forward to June. Not only to enjoy a beer garden with nice good weather but also to finally go to the Good Beer Spa. I have just booked my session!
And I am also thinking about celebrating my birthday in the Good Beer Spa with my bubble. In Belgium, one of the corona measures was the bubble. A bubble is the reduced number of people you can see without having to keep the one-meter and a half security distance. Before numbers got crazy again we had a bubble of four people. It must always be the same people, you cannot or should not change bubbles. If you do, the bubble measure is useless. So, as I cannot celebrate my birthday with a big party in a pub I have decided I will have a full beer experience with my bubble! Book a Good Beer Spa session for up to six people in three different ofuros. Three ofuros, six people, two beer taps to serve our own beer. What the hell! I will contact them and book two sessions, one after the other! As I could not celebrate my birthday last year, this year I am going nuts! 
My mouth is watering! I am going to have a beer, let's see what I have in my fridge ... :-)
I will tell you more about the Good Beer Spa very very soon...
 April 2021
Yes! the Good Beer Spa announced yesterday on Facebook that it will be opening in May! See! https://www.facebook.com/goodbeerspa
This is very good news because after all the difficulties the opening is approaching and I will finally be able to enjoy and relax in those wooden ofuros filled with warm water, hops, malt, and beer! while drinking a fresh draft Belgian beer from the tap next to the beer bath.
I am so looking forward to this! I have my voucher and will book my session as soon as the Good Beer Spa web page opens the calendar again. I understand the Beer Spa will wait for the announcement of the new covid measures in Belgium on the 25th of April before opening their calendar again because they had to close it due to lock down a couple of times already.
Anyway, after several difficulties, not only Covid, I found out that material was stolen from the Good Beer Spa during the construction, and there have been a series of technical difficulties over the last months... finally, now at least, everything is on track to open very soon.
The place is going to be amazing. They are doing incredible artisanal work, the platform round the ofuros is like a beautiful 3D wooden puzzle with all the pieces cut to measure and carefully placed to give access to the ofuros. The gift shop is going to include a variety of upcycled wooden crafts, all sanded and treated by hand with a lot of care to display the Good Beer Craft. I have seen it ;-)
I will tell you everything about this new beer experience in an upcoming article with photos on this page as soon as possible :-)
May 2020
It was time to be able to enjoy the Beer Spa Experience in Belgium. A country that has recently started to value what they have, the best beers in the world.
I have tried it in other countries and it is great to include it in a Beer Weekend or just to enjoy the pleasure of relaxing with beer if you have one near you. The advantage of including them in a Beer Weekend is that it is a nice break from all the walking and visiting while relaxing and tasting a local beer.
A Beer Spa will be opening soon in Brussels and a crowdfunding campaign is now underway to open the first beer spa in Belgium, the Good Beer Spa.
For the moment you can read on their campaign page all the details and the explanation of what a Beer Spa is, in case this is a new concept for you. I should say that you are not actually bathing in a beer barrel. It is a nice wooden bath with warm water to which beer yeast, hops... are added. And on top of a very relaxing and enjoyable experience it is very good for your skin.
And no, you do not smell like beer at all afterward. In order to keep your skin nice and soft from the natural beer ingredients in your bath a shower directly  afterward is not recommended but it is always available for you if you still prefer to have one.
As soon as it opens I will post a whole article about it here. As for now,  I have bought my pre-sale session at a very good promotional price and I am very much looking forward to it.
If you are interested in giving it a go, this is the moment to get your session. As it is not yet open, launching prices are really advantageous in the Good Beer Spa crowdfunding campaign.